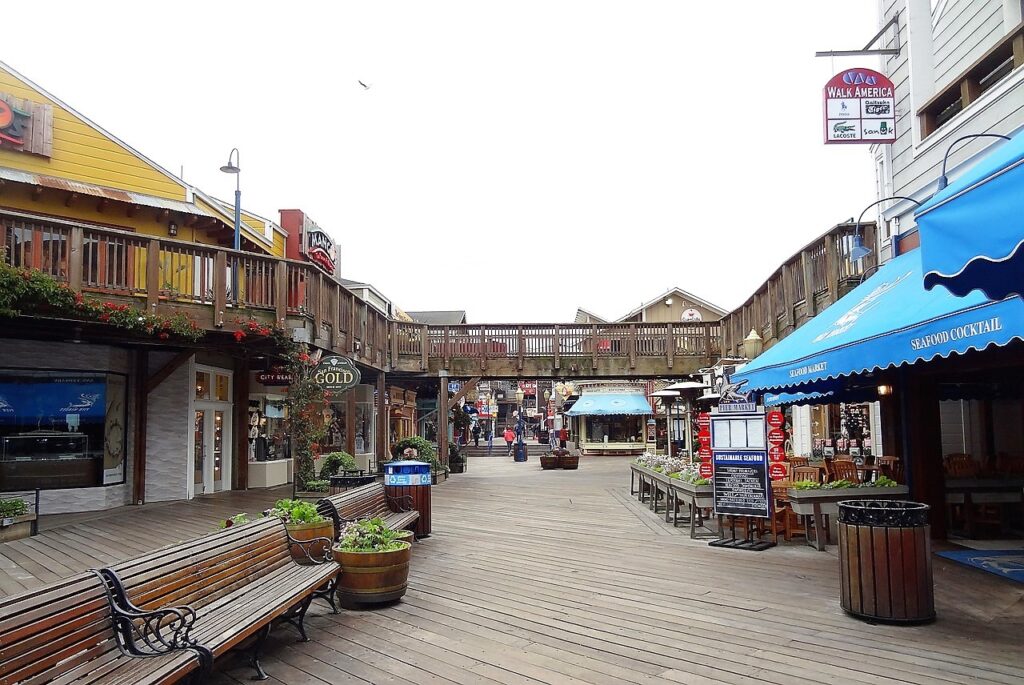 Fisherman's Wharf is home to some of the best breakfast restaurants in San Francisco Here's our 8 best breakfast restaurants you must try
Beach Street Grill
American, Healthy
380 Beach Street at Taylor San Francisco, CA 94133, USA
(415)867-1711
Located on Beach Street, if you want a healthy traditional American breakfast Beach Street Grill is a good spot the restaurant serves traditional American food that's organic and fresh. This includes a fresh fruit Bowl, strawberry, banana, raspberry, Pancakes, French toast, and many more. They buy all of their products from local farmers.
Also, Beach Street Grill offers gluten-free options on their menu.
Hot spud
American
2640 Mason St San Francisco, CA 94133, USA
Between Beach St & Jefferson St, Fisherman's Wharf
(415) 399-1065
Located at North Beach in Fisherman's Wharf. Hotpud is a unique dining spot that capitalizes on baked potatoes. For those looking for a great healthy breakfast, Brunch specials include gluten-free brownies, Fresh fruit cup, Lemon beurre blanc sauce, and many more. Whenever possible, the menu produces are sourced locally which are organic and Fresh.
Check out our post: Aquarium of the Bay Discount Tickets
Hollywood Cafe
French, American
530 North Point Street, North Beach, San Francisco, CA 94133, USA
(415)563-3779
The Hollywood Café is a local favorite breakfast place that regularly gets customers lining out but it's worth waiting. The Café serves traditional American breakfast which will energize you. In addition to Carmel fried banana French, vanilla banana fresh toast, Hollywood Hash Browns topped with bacon, onion, and cheese. And for all lovers of fruit, there's a fresh fruit Bowl that comes with, strawberry, orange, blueberry, banana, and other options. The food is well prepared using only the freshest ingredients.
Buena Vista Café
American, Irish
2765 Hyde Street, Fisherman's Wharf, San Francisco, CA 94109, USA
+1 415-474-5044
Buena Vista Café is a unique breakfast destination for those looking for a great experience.
The café is easily accessible by car, foot, and cable car. Also, Buena Vista Café is known for its famous Irish coffee crafted from organic coffee that gets you warmed. If you're hungry for breakfast enjoy savory grilled sourdough toast, a Dungeness crab omelet made with eggs and other options.
While there get a seat outside to enjoy gorgeous views of the Bay Area.
Cioppino's
Italian, American
400 Jefferson Street San Francisco, CA 94109, USA
+1 415-775-9311
Cioppino's is a unique Italian cuisine dining destination for those looking for a great breakfast. The restaurant is open for dinner, brunch, and lunch every day. In addition to that,
Cioppino's is known for serving authentic Italian delicious food and breakfast, Which includes oven-roasted sourdough with herb butter spread, garlic bread, mozzarella cakes, creamy blend of delicious cheeses and other gluten-free options. They also make their pizza with nice and fresh topping.
Pescatore Trattoria
Italian
2455 Mason Street, San Francisco, CA 94133, USA
+1 415-561-1111
Pescatore Trattoria is a classic Italian restaurant near Fisherman's Wharf off North Beach. This restaurant offers friendly dining for breakfast. Popular meals include classic fried calamari, shrimp ravioli, a signature dish of cioppino, and gluten-free spaghetti noodles.
Eight AM
American
1323 Columbus Avenue, Fisherman's Wharf, San Francisco, CA 94133, USA
+1 415-292-4888
Eight AM is a great little brunch restaurant on Columbus Avenue. The restaurant is known for serving a delicious breakfast which includes Russian hill Frittata, fruit bowl dish, banana nut waffle, waffles with whipped cream, and red fruits. Also, the restaurant serves a delicious avocado toast with crepes, prepared in three different ways.
Mama's
American, French
1701 Stockton Street, North Beach, San Francisco, CA 94133, USA
+1415-362-6421
Mama's is a family café on Washington Square of San Francisco. Mama's serves its breakfast between 8 am to 3 pm every day, which includes m'omelettes with Mama's grilled potatoes, whole grain toast, English muffin, sourdough baquette, pancakes, and homemade jam. However, the café is only open for breakfast and lunch so make sure you arrive as soon as they open or expect long queues outside.