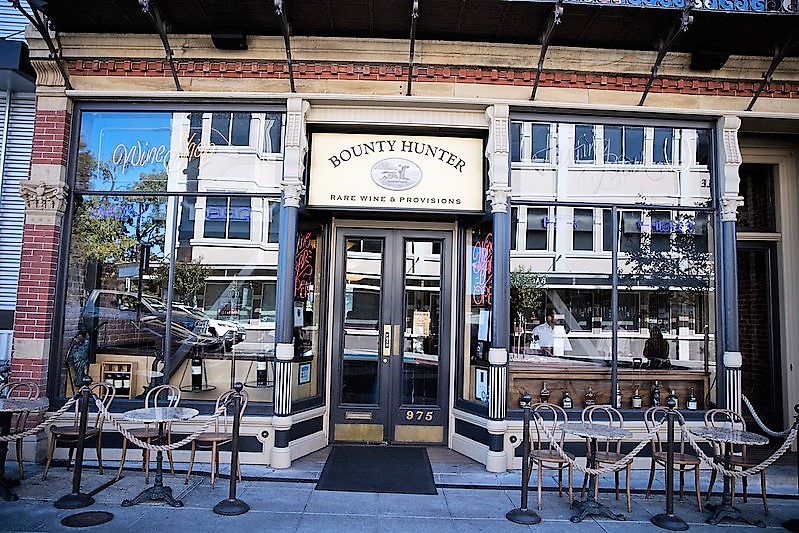 Golden vineyards and rolling hills are Napa Valley's signature sights, but have you ever heard how amazing the downtown tasting rooms are? With so many collectives and wine bars to choose from in downtown Napa, it's easy to have a relaxing afternoon wine-tasting away at several spots. Plus, you won't need to go on long drives to do it. Most of the downtown tasting rooms are in walking distance from each other, making it comfortable for you and your friends to bar hop around and try the best wines suited to your palate. Check out some of these awesome tasting rooms here:
1. Stonehedge winery
Stonehedge is the best place to try distinct profiles of wine. So, if you're feeling adventurous, you're in luck! The winery specializes in the production of Cabernet Napa Valley, Sauvignon, Merlot, Petite Sirah, Zinfandel and Chardonnay. Try a California Appellation or go for a bolder flavor with one of the reserves at its tasting room. Whatever you decide, Stonehedge's dedicated staff can help you choose the right wine for your palate. The collective has been impressing wine connoisseurs since 1992. So, there's no doubt that they'll impress you with their high-quality selection as well!
Yelp Rating: 4.5
Tasting room open Saturday to Sunday: 12 – 6pm
1004 Clinton Street, call: (707) 257-1068 ext. 305
For more info: stonehedge tasting
You may also like: The 7 best wine tours from san Francisco
2. Vintner's Collective
Vintner's Collective's historic building may not be a saloon or brothel anymore, but this downtown Napa tasting room still carries a certain rustic charm that can't be forgotten. The winery has been serving exceptional wines in an intimate personal setting for years with knowledgeable staff to help guide you through full-bodied flavors during customized tastings at the bar. Take in their extensive knowledge, and explore vintages from more than 15 local wineries in Napa Valley. Make an appointment, or just walk in to experience all of the magic.
TripAdvisor Rating :4.5
Tasting room open daily: 11am – 7pm
1245 Main St, call: (707) 255-7150
For more info: Vintner's Collective tasting
3. The Bounty Hunter
Did someone say barbecue? Bounty Hunter did. This wine bar and delicious barbecue joint is located right in the heart of downtown Napa with an 18-page wine list offering customers amazing variety not only from California, but also from wine countries around the globe. After trying one or even two of the 400 allocated wines, you should also check out some quality beers and over 40 premier American whiskey brands that go great with the bar's food selection. The all-day menu features Southern styled eats like Bounty Hunter pulled pork, smoked beef brisket and a beer can chicken stacker.
TripAdvisor Rating: 4.5
Tasting room open Sunday – Thursday 11 to 9 pm, Friday & Saturday 11- 9pm
975 First Street, call: (707) 226-3976
For more info: Bounty Hunter tasting
4. Gustavo
Cheese-lovers listen up! Gustavo's tasting room offers the perfect wine and cheese pairing in the Oxbow District. For fifty dollars, you'll be instructed by Gustavo Brambila himself, an astounding winemaker and the owner of the winery, who will help you begin your spectacular journey into the world of wine. Afterwards, you can also enjoy a series of signature red and white wine flights, plus wine by the glass and by the bottle for affordable prices. Want to relax a bit and enjoy the tasting room's lovely atmosphere? Get 7% off your wine bottle purchase when you decide to drink it at the premise. Come on, wine not?
TripAdvisor Rating: 5.0
Tasting room open Monday – Saturday 12 – 6pm; Sunday 12 – 5pm
1021 McKinstry Street, call: (707) 257-6796
For more info: Gustavo tasting
5. Uncorked at Oxbow
Uncorked's charming location in a historic 1900's home offers a cozy atmosphere to enjoy some of Napa's most stellar wines in the Oxbow district. With no appointments necessary, this is the best winery for first-time visitors to Napa Valley, or those who are new to wine tasting. Options for tasting range from general to premium in the house's two tasting rooms, and unlike other stand alone tasting rooms, Uncorked let's you barrel sample wines from their climate controlled room for a one of a kind experience. More experienced wine enthusiasts can try one of the winery's blending seminars to improve their palate, where you'll get to learn both the subtle and dramatic differences of a variety of wines.
TripAdvisor Rating: 4.5
Tasting room open Monday – Saturday 12 – 7pm
605 1st Street, call: (707) 257-5200
For more info: Oxbow tasting
6. PureCru
Have a special occasion coming up? If you do, it may be the perfect time to visit PureCru's downtown Napa tasting room. The wine collective's tasting room can be reserved for events such as wedding receptions and dinners, family celebrations and even business meetings. Come on, who wouldn't like to unwind during work? PureCru's wine selection has won thousands of awards for their unique blended tastes, so it's safe to say that this is a place to definitely bring your friends, co-workers and family. Try one of the collective's crisp "Great Whites" or relax with a smooth "French Origin" red.
TripAdvisor Rating: 5.0
Tasting room open Monday – Thursday 11 to 7 pm, Friday & Saturday 11- 10pm, Sunday 11-7pm
1463 First Street, call: (707) 226-3046
For more info: Purecru tasting
7. Trahan
At Trahan's tasting room, each glass of wine is really a glass of fun. Located in the heart of downtown, experience a laid-back, inviting ambience while surrounded by other wine-lovers like yourself. This small family winery puts nothing but love into their reds and whites through selecting the highest quality grapes and employing Napa's most dedicated farmers. Purchase one of their many reserve wines at the tasting room to experience their very best selection.
TripAdvisor Rating: 5.0
Tasting room open Saturday, Sunday & Monday, from 1pm-6pm
974 Franklin Street, call: (707) 257-7477
For more info: Trahan winery tasting
8. Vermeil
Vermeil is inviting you to get comfortable, and not just on one of its plush, cozy couches, but also outside on its quaint patio, where you can enjoy the scenic sights of downtown Napa while reveling in a glass of wine. The tasting room offers personalized tastings of its current releases, private tasting appointments and even extended hours for those who want to keep the fun going well into the night. Choose to partake in a series of signature wine flights, or sweeten things up with a chocolate truffle tasting.
Tasting room open Friday &Saturday11am-11pm, Sunday & Thursday 11am-10 pm
1018 First Street, call: (707) 254-9881
For more info: vermeil wines tasting
Wine Bar Hop Away!
Getting excited about Napa Valley's downtown scene? Book a room at a hotel in the area to make visiting tasting rooms an easy breeze. Downtown Napa allows you and your friends, family members, or co-workers to experience the fun of this region on foot. So, plan your own wine bar crawl, book some private tastings, and stumble upon some cozy corners. Who knows? You might even become a wine connoisseur by the end of your week-long holiday after tasting so many good reds, whites and rosy rosés.