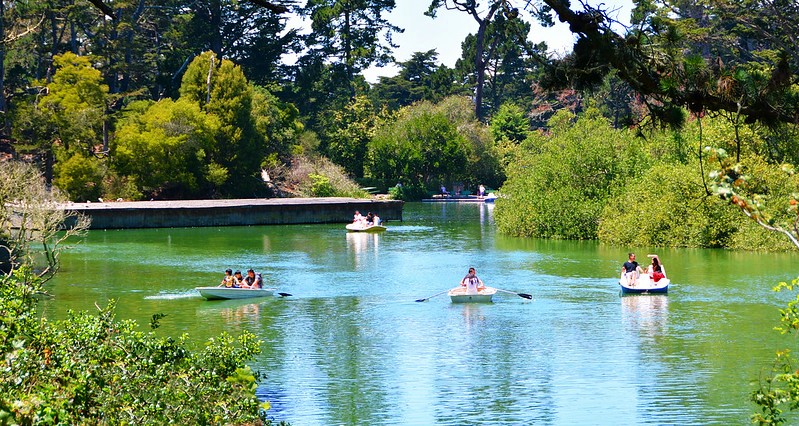 Enjoy San Francisco's amazing sunny weather in one of the city's most popular attractions, Golden Gate Park. Packed with stunning attractions, the park provides wholesome fun and awe for the entire family with a variety of activities and events taking place both outside and inside. Stop and smell the roses at the San Francisco Conservatory of Flowers, watch butterflies in a four-story rainforest at the California Academy of Sciences, or even check out some awesome Golden Gate Park events for quality entertainment. Here are some of the park's most popular spots to visit:
1.Japanese Tea Garden
ADDRESS
75 Hagiwara Tea Garden Dr, San Francisco, CA 94118, USA
PHONE +1 415-752-1171
ONLINE: Visit website
Golden Gate Park's Japanese Tea Garden allows you to awaken your senses in an environment filled with sounds of an azalea-covered waterfall and magical aromas of wisteria for the ultimate relaxing experience. When you're surrounded by alluring hedges, plus beautiful irises and dwarf trees decorating the garden, you won't want to be anywhere else. Have a sip of tea and enjoy the Zen atmosphere.
2. Ocean Beach
ADDRESS
Building 201, Fort Mason San Francisco, CA 94123-0022, USA
PHONE +1 415-561-4700
ONLINE: Visit website
Yearning for a beach day? Spend an afternoon on a long four-mile stretch of sand, overlooking crystal blue water at Golden Gate Park's beautiful Ocean Beach. This is hands-down one of most relaxing attractions here, and if you're a strong swimmer, don't be afraid to catch some waves and go surfing. If you're not a mermaid or merman at heart, you can still have a fun family outing. Go have a picnic on the beach or admire restored Windmills against gorgeous Pacific Ocean views. If you want to learn more about Golden Gate Park, you even can stop by the Official Visitor Center in the Beach Chalet building for more information. There's something for everyone.
3. The Conservatory of Flowers
ADDRESS
100 John F Kennedy Dr, San Francisco, CA 94118, USA
PHONE +1 415-831-2090
ONLINE: Visit website
Are you a flower fanatic? Well if so, look no further than Golden Gate Park's gorgeous Conservatory of Flowers, where you can take a journey into a museum filled with lovely, living, breathing nature. The conservatory's five distinct galleries are simply brimming with beauty, including a variety of plants from different types of climates all over the world. There's no need to travel far here. Trek through the Lowland tropics, where you'll find hundreds of plants native to tropical countries like Mexico, Brazil and Indonesia, or check out the Potted Plants gallery, and stop and smell a variety of flowers like hibiscus and orchids. The beauty doesn't even stop at night. The conservatory offers one of the most spectacular Golden Gate Park events, a rotating light art exhibit illuminated on the outside of the building. Come see the show at sundown each night.
4. de Young Museum
ADDRESS
50 Hagiwara Tea Garden Dr, San Francisco, CA 94118, USA
PHONE +1 415-750-3600
ONLINE: visit website
Attention Fine art lovers visiting Golden Gate Park! You can enjoy your muse at the de Young Museum, which is home to more than 25,000 works of art on display from around the world. Yes, you can literally spend hours and hours marveling at amazing art that your passionate about. Traditional exhibits include pieces from pre-Columbian America to 20th century America, plus artwork from sub-Saharan Africa, New Guinea, and Indonesia. Don't be afraid to check out some unique pieces, like a large textile display and a changing photography exhibit. After your museum visit, don't forget to check out the free de Young Tower Observation Deck. Nine floors above ground, you'll have awe-inspiring 360° views of not only Golden Gate Park, but also the top of the Golden Gate Bridge, and even part of downtown. Make some wonderful memories with your family and friends as you gaze upon the skyline.
5. Golden Gate Park Walking Tour
ADDRESS
501 Stanyan St, San Francisco, CA 94117, USA
PHONE +1 415-831-2700
ONLINE: Visit website
Want to learn about Golden Gate Park's history? Why don't you take a Golden Gate Park Walking Tour to see and learn about its famous sights? Freetour is a great resource to check out free walking tours in San Francisco, or check out San Francisco City Guides Golden Gate Park Stroller Walk, perfect for adults with children in strollers, seniors, and those with mobility impairment. Explore 12 scenic areas of Golden Gate Park during this peaceful walk and enjoy all the splendid nature it has to offer.
6. California Academy of Sciences
ADDRESS
55 Music Concourse Dr, San Francisco, CA 94118, USA
PHONE +1 415-379-8000
ONLINE: Visit Website
The California academy of Sciences is the most visited museum in San Francisco and it's easy to see why. With a four-story rainforest, an aquarium full of interesting fish and an interactive planetarium, it's like going to four museums in one. Whatever you choose to do here will be a hit with the entire family.
You may also like this: California Academy of Sciences Discount tickets
7. Golden Gate Park Events
If you want to participate in some more fun activities, Golden Gate Park hosts a variety of yearly events for the whole family to enjoy. Check out some of these fun ones:
Outside Lands: San Francisco's biggest music festival features three full days of music, food, wine, and other entertainment every August.
Hardly Strictly Bluegrass: Who doesn't love free festivals? In October, check out the Hardly Strictly Bluegrass event, drawing in international acts and up-and-coming artists, for three days of fun..
Sunday Streets: Get some exercise at this free car-free event. With the Great Highway closed down, Sunday Streets allows you to get active by allowing runners, walkers, and bikers a chance to get in some extra miles for the day. Plus, there's free health screenings! Who doesn't love those? Eight events a year are offered at local districts around San Francisco.
Tree Lighting and Holiday Celebrations: There's no better way to celebrate your winter holidays than spending it in Golden Gate Park. It includes activities for all ages like carnival rides, arts & crafts, a cookie factory and even a visit from Santa.
Find out more about Golden Gate Park events on this calendar.
Now Plan Your Visit!
A San Francisco vacation definitely isn't complete without a trip to Golden Gate Park. Now that you know a little more about it, it's time to start planning your visit. So, take that free walking tour, marvel at some museums and attend some lively events. Make some memories in Golden Gate Park that will last a lifetime.