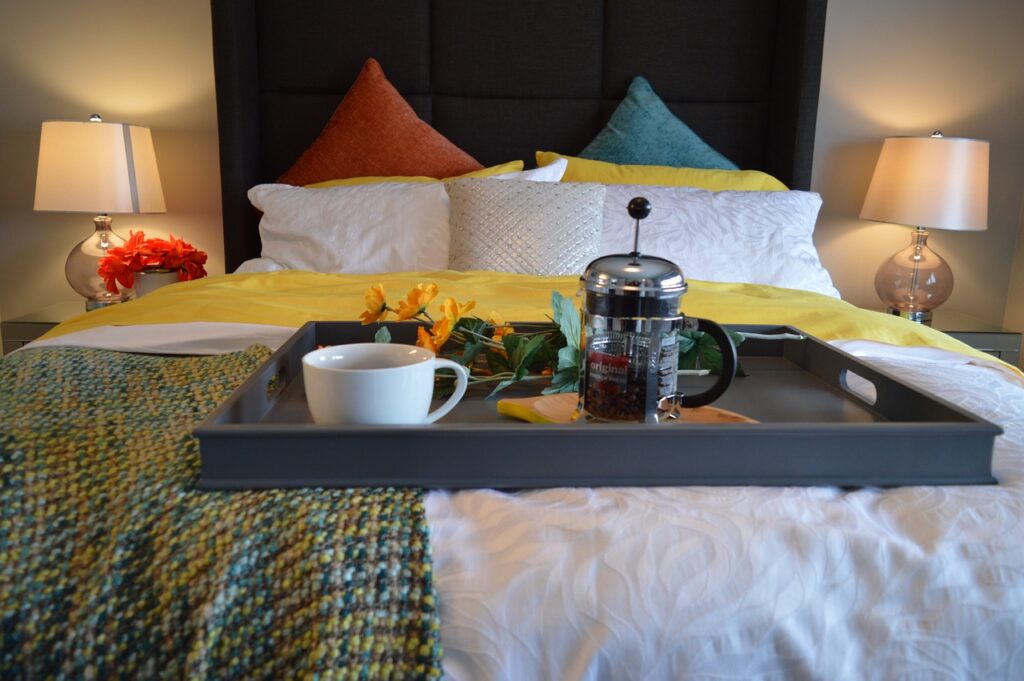 ST Helena is centrally located to many top wineries such as Beringer Vineyards and V.sattui winery just to name a few, Also this Town hosts the Culinary Institute of America best option if you have a passion for food and wine Besides that this town offers quite a few lodging options. We recommend selecting from this list of the top bed and breakfasts to stay in St Helena Napa valley
Let's dive in
Black Rock Inn
3100 N. Silverado Trail St Helena CA 94574
Visit website
(707) 9687893
Black Rock Inn is set in 2acres on a hillside in a Victorian-style building. The Inn has a tasting room and wine cave a fun place to talk about wine and feel relaxed. Stay in plush beds with 100% Egyptian cotton bed linen, each morning you'll be served a delicious cooked breakfast. In the afternoon relax by the large fireplace a choice for wine tasting and relaxing.
Vineyard Country Inn
201 Main Street St Helena CA 94574
(415)3311061
Vineyard Country Inn is a bed and breakfast set on a vineyard close to many wineries, with a lovely location with rooms overlooking the vineyard. Perfect if you are looking for a romantic and relaxing escape. The Inn offers its guests wonderfully comfortable accommodations and amenities which include wired and wireless internet access, complimentary and comfortable workspace. Also, each morning a complimentary deluxe continental breakfast is served.
Inn St Helena
1 Main St, St Helena, CA 94574
(707) 9639463
Inn St Helena is an 8 room boutique Inn located right in downtown St Helena CA.
Plus, You are minutes from wineries such as Beringer , Merryvale to name a few. This boutique Inn consists of 8 guest rooms fully furnished with sliding glass doors Most importantly at breakfast freshly brewed local coffee or tea, a warm and whole same gourmet breakfast is served.
Shad oaks Country Inn
399 Zinfandel Lane St Helena CA 94574
(707)9631190
Shad Oaks Country Inn is a bed and breakfast Inn located on zinfandel lane. Set among vineyards, just 5 miles from Beringer Vineyards. This amazing Inn offers guests excellent amenities, luxurious rooms, and a romantic fireplace to enjoy a glass of wine. Plus, every morning a famous full champagne breakfast is served with home-baked croissants or muffins.
Zinfandel Inn
800 Zinfandel LN St Helena CA 94574
(707)9633512
Zinfandel Inn was founded in 1984 and started as a bed and breakfast. The Inn offers rooms with a private balcony overlooking the gorgeous vineyards.
Best of all, a full hot breakfast with a combination of muffins is served.
Spanish Villa Inn
474 Glass Mountain Rd St Helena CA 94574
(707)9637483
This lovely villa is a splendor of a Tuscan Mediterranean Villa; the Spanish Villa Inn is surrounded by beautiful gardens. The rooms feature linens, Lamps, TV rooms, and carved Spanish headboards. Plus, a library including books from the 17th Century. And, each morning breakfast is served in La Galleria a sunny room overlooking the gardens.
Wine Country Inn and Cottages
1152 Lodi Ln St Helena CA 94574
(707) 9637077
Set adjacent to a Vineyard near the towns of St Helena and Calistoga, the wine country Inn and Cottages is a luxurious and finest bed and breakfast boutique hotel. Along with breathtaking views of the vineyards and gardens from its rooms. Also, Wine country Inn offers its guests a delicious wine country breakfast with fresh cheese, weekly wine tastings, in-room massages and a picturesque swimming pool overlooking at the vineyards.
YOU MIGHT ALSO LIKE:
The 7 Best wine Tours from San Francisco